Keyword: COLOUR.
The new collection, divided into Informal, Upformal and Pockets for Denim, involves the use of different shades and intensities that make the fabric the real protagonist of the garment.
Let's discover them in detail…
---
Informal Collection
A cheerful and fresh atmosphere, illuminated by deep purples, yellows, oranges and acid greens. The fabrics' lightness is enhanced by dyes, overdyes or degradé effects.
The mix of rough and smooth surfaces, fresh and technical hands, geometric and floral designs, jacquard make the patterns look like embroideries.
---
Upformal Collection
Flowy and lightweight fabrics with sophisticated patterns and tailored stripes. Colours range from beiges to browns, highlighted by purple and orange accents, matched with a universal blue.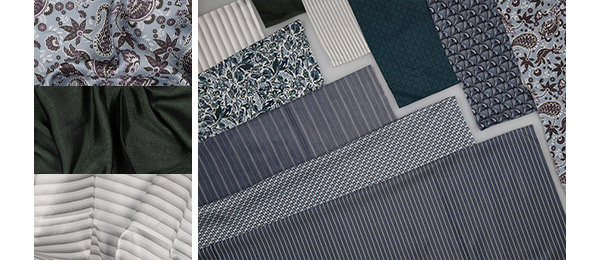 ---
Pockets for Denim Collection
The lightness of summer mood comes to life in this collection's nuances. The intense shades of raspberry red and the warm apricot orange are tempered by mint green and white, matched with a dark navy blue. Designs range from renovated geometrics, stripes and neo-Hawaiian motifs.
---
We will present the new collection at the three following exhibitions:
Munich Fabric Start, Munich
24th-25th-26th of January 2023
Hall 4 – S2 – F226
Milano Unica, Milan
31st January – 1st-2nd of February 2023
Hall 12 – Stand A27, A29, A31
Première Vision, Paris
7th-8th-9th of February 2023
Stand Booth 6C26
If you do not have the opportunity to visit us on these occasions contact office@cervotessile.it to fix an appointment.